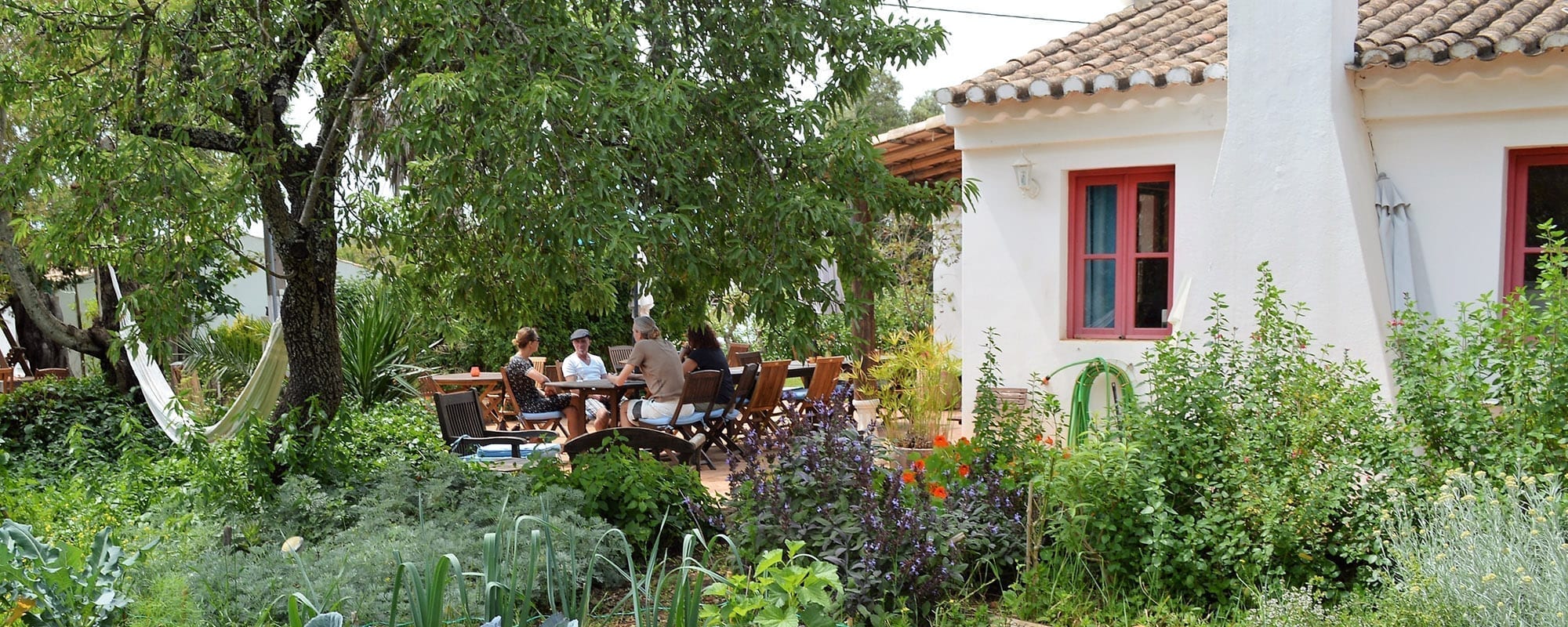 WHAT'S THE CHECK-IN TIME AT MONTE ROSA? IS IT POSSIBLE TO ARRIVE EARLIER?
In general, you can check-in from 14.00 hours on the day of arrival. If you expect to arrive earlier at Monte Rosa, please let us know in advance. We will try our best to have the room ready for you. In case the room is not ready yet, it is possible to store your luggage. Meanwhile you can enjoy a nice breakfast, a drink in the garden or take a dip in the pool.
WHAT IS THE CHECK-OUT TIME?
We ask our guests to check out between 10.00 and 11.00 hours on the day of departure. When you have a late departure, for example because of an evening flight, it is possible to store your luggage with us. Of course you are welcome to enjoy our garden and swimming pool on your last day!
DO I NEED TO BRING MY OWN TOWELS, DISHCLOTHS AND BEDLINEN?
No, the beds are made on arrival and two towels per guest are provided. We do ask you to bring your own beach towels. You can also rent beach towels at Monte Rosa for €5 per week. Sheets are changed every week and twice a week you will receive fresh towels and dishcloths.
WHAT ABOUT THE FINAL CLEANING?
We ask our guests to leave the room/house 'wipe clean'. This means that the bed is stripped, there are no dirty dishes left, the trash cans are emptied and the room/house has been swept. In this way, no additional cleaning fee will be charged. If you don't feel like leaving it tidy yourself, for an extra charge of €20 we can arrange the final cleaning for you.
DO I FIND EVERYTHING I NEED FOR COOKING IN THE COMMUNAL KITCHEN ?
Yes, in the covered communal kitchen you find a gas stove with oven, a large fridge, pots, pans, cutlery, crockery etc.
DO YOU SERVE DINNER AND WHAT IS THE PRICE?
Yes, you can have breakfast at Monte Rosa daily between 08.30 and 10.00 hours. Breakfast includes warm bread, various cheeses and jams, coffee or tea, fresh juice, fruit, yogurt, muesli and an egg. Costs for breakfast are €10, children under 11 years pay €5. We serve lunch only to groups starting from 10 people (€12). During breakfast guests can make their own lunch package for €6 (sandwiches, fruit, muesli bar and packet of juice or water). From April to September we serve a delicious 3-course dinner (vegetarian, fish or meat) on Mondays, Wednesdays and Fridays for €22 including wine or juice. Children under the age of 11 pay €11. Sometimes, on warm summer evenings, we organise a BBQ in the garden on Friday, with an extensive buffet of meat, fish and/or vegetarian delicacies, lots of salads and sangria. Dietary requests can always be taken into account. For drinks and snacks, guests can use our so-called 'Honesty Bar' (self-service).
CAN I DO LAUNDRY AT MONTE ROSA?
For a small fee (€3) guests can use the washing machine. Detergent is available.
DO YOU HAVE A LIBRARY?
Yes, there is a library with many recent books in different languages. Novels, detectives and books in the field of personal development. You can also find books and travel guides about Portugal and the Algarve in the library.
DOES MONTE ROSA ACCEPT CARD PAYMENTS
No, at Monte Rosa we only accept cash payments. The nearest ATM is in Barão de São João (2km).
CAN I BRING MY PET TO MONTE ROSA?
Pets can come to Monte Rosa on request. Dogs must be kept on the leash at all times. There's an additional charge of €5 per day per pet for extra cleaning.
HOW CAN I LEAVE A REVIEW?
After your stay at Monte Rosa, we welcome you to leave a message in our paper guest book. Your message will appear on our website under reviews. You can also write a review on Tripadvisor or, for example, on Facebook.
IS SMOKING ALLOWED AT MONTE ROSA?
Smoking is not allowed in any of the buildings. Outside it is allowed. Please don't throw cigarette butts on the ground, especially with regard to the big fire risks during summer.
WHAT'S THE WEATHER LIKE IN PORTUGAL?
Click here for information about the current weather in the Algarve.
ARE THERE BABY COTS AVAILABLE?
Yes, there are baby cots available for €10 per night.
IS IT POSSIBLE TO PUT AN EXTRA BED IN THE ROOM/HOUSE?
Some rooms/houses can accommodate an extra bed. The costs are €10 per night.
IS THERE A MINIMUM STAY AT MONTE ROSA?
For a shorter stay than 4 nights, we apply a one-time surcharge of €10.
HOW LONG IS THE DRIVE FROM FARO AIRPORT TO MONTE ROSA?
After you have picked up the car, it is an hour's drive to Monte Rosa. We'll send you a route description.
CAN I COME TO MONTE ROSA BY BUS OR TRAIN?
Yes, that's possible. Both from Faro and Lisbon you can travel to Lagos by bus or train. We offer transfers from the bus or train station of Lagos to Monte Rosa for €8 per ride. Here you'll find all the information on How to Get to Monte Rosa.
DO I NEED TO PAY A DEPOSIT IF I RENT A CAR VIA MONTE ROSA?
We work with a local (befriended) car rental company. The process is quick and easy and it's not needed to pay a deposit with your credit card.
ARE THERE ANY ADDITIONAL COSTS FOR THE CAR?
No, there are no extra costs.
WHAT DOES 'CDW' MEAN?
CDW (Collision Damage Waiver) is optional damage insurance coverage that is available to you when you rent a car. The full insurance covers damage and/or loss to the vehicle including theft. Full insurance starts from €20 per week for the smallest type of car. A few things are not included in the CDW, such as the tyres.
CAN I PICK UP THE RENTAL CAR SOMEWHERE ELSE THAN IN FARO?
You can pick up the car and deliver it at Faro Airport and/or in Lagos. If you fly to an airport other than Faro Airport, you can rent a car online, for example with Holiday Cars.
Follow Monte Rosa on social media