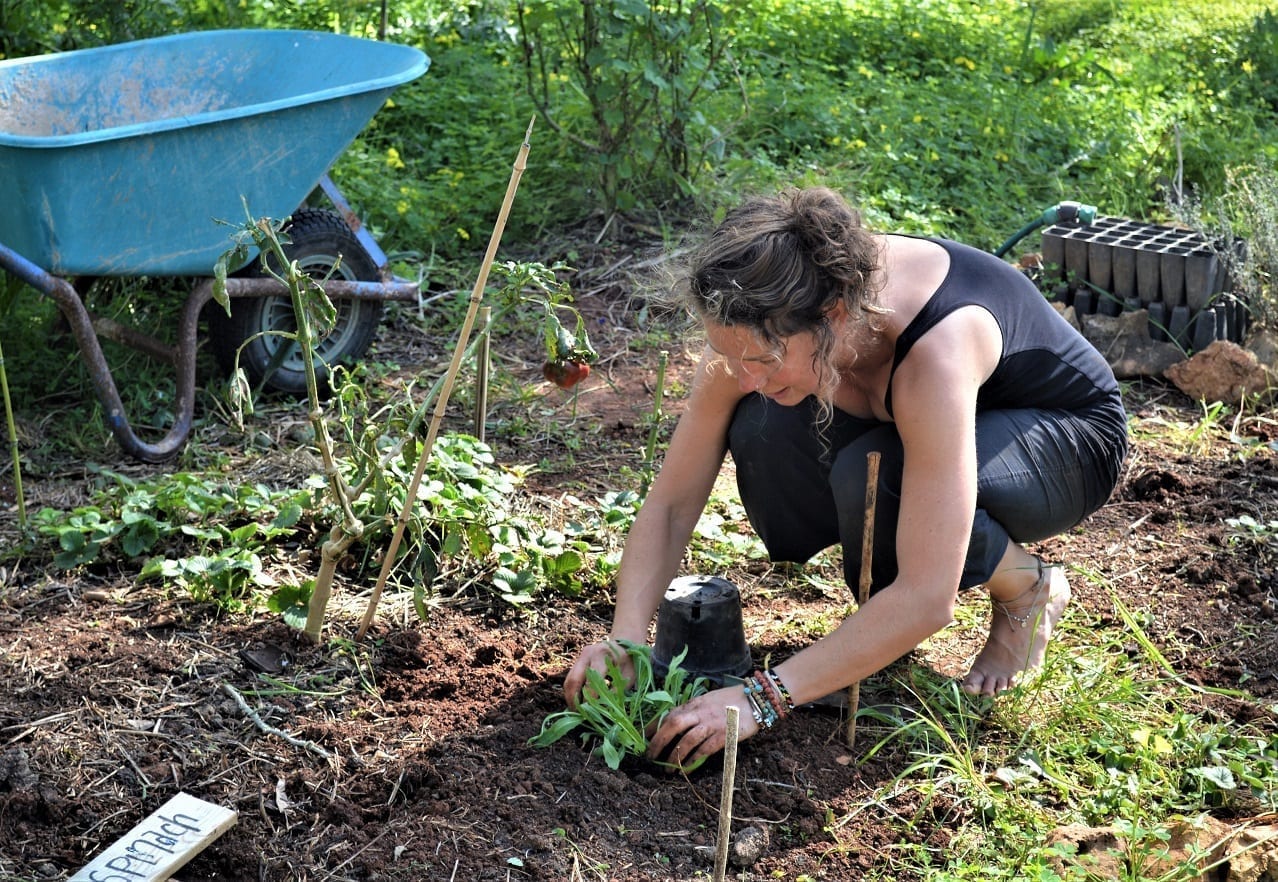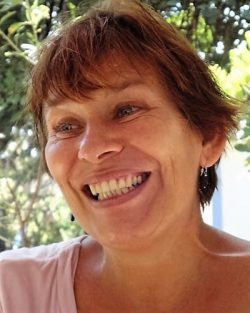 Sandra
(1954) is the founder of Monte Rosa. She is proud to look back on how she exchanged her stable life as a teacher in Groningen in the 1980s for an uncertain existence starting a health food restaurant and juice bar in Portugal. With her idealistic entrepreneurial drive, the business grew to become the first vegetarian restaurant of Lagos. In 1993, she started her 'Monte Rosa project'. Old farmhouses ('Montes') were rebuilt with care and love into comfortable guest accommodations, tastefully furnished by Sandra. For many years she was the hostess and cook. Her aim is to propagate of a healthy lifestyle, facilitate the meeting between like-minded people and encourage personal development and social awareness. Now that Sandra is retired, she only wants to do things that she enjoys on Monte Rosa, like taking care of the permaculture garden or have a nice chat with the guests. She does continue to guard the Monte Rosa vision.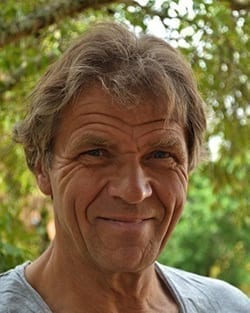 Theo
(1948) and Sandra met when they were in their twenties and colleagues at a school for children with learing and education problems. After his career as a gym teacher and his years as a managing director at a large educational institution, he and Sandra got back in touch. In 2011, Theo retired and he was able to visit Portugal more and more. He very much enjoys his supporting role at Monte Rosa. Theo has proven to be very versatile and always willing to help with any task that needs attention. For example, he has worked out a number of beautiful cycling routes. As a sports lover he likes to play tennis and regularly rides on his race bike. After an active period at Monte Rosa, Theo is now gradually finishing his working life and enjoys spending more time in the Netherlands with his children and grandchildren.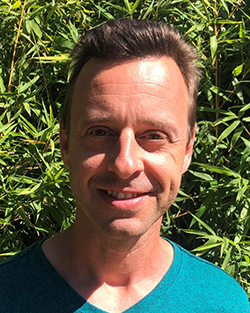 Fabio
(1974) was born in in the South of Brasil. After traveling through many countries he settled finally in Portugal, together with his beloved Maris. In May 2021 he came to Monte Rosa as a volunteer, offering his services as a PR and
marketing expert
. Fabio now also helps with correspondence, and will be your host. As a hobby he loves to play the saxophone and the
guitar
, his favorite sport is
karate
. Fabio studied
neuro-linguistic programming
(
NLP
) and loves to bring this into practice by coaching. His personal stabilty gives good energy to the Monte Rosa team.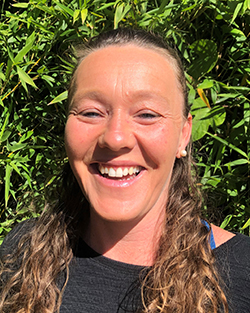 Maris
(1979), also Brazilian with Portuguese residence, came to Monte Rosa with her best friend Fabio, who she happily married at a very early age. Maris is a real pleasure to have around: always positive and happy and loves a good laugh. At Monte Rosa she serves her beautiful 'café de manhã', the Brazilian word for breakfast. On mondays, wednesdays and fridays she prepares a delicious dinner for guests op Monte Rosa. It's a pleasure to have this well organised woman in the kitchen! Like Fabio, Maris is a NLP expert.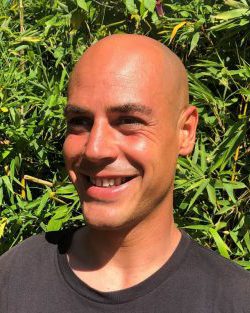 Samy
Samy (1991) is our volunteer from Syria, who has been helping at Monte Rosa since March  It is very interesting to have somebody with us from a not western culture. Samy gets up early to irrigate the perma garden, the flowergarden and the grass, and then the fruit trees all the way to the land where we built our roundhouse. He feeds the chickens, sometimes joined by the children from our guests, he cleans the pool and after that he sometimes helps preparing the breakfast  When it is busy he helps cleaning he dishes after dinner. Samy tries to do his work in a mindfull way. In the afternoon you will  usually find Samy at the beach trying to catch some waves on his surfboard.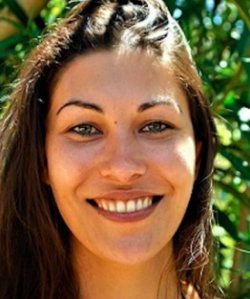 Arianne
(1990) is the daughter of Sandra. From her 3rd year she lived at Monte Rosa and witnessed how a small pension grew into a large rural guesthouse. Arianne gave her heart to Lisbon, where she studied communication, marketing and graphic design. Since April 2017, she lives in the beautiful historic centre of Lisbon, where she rents out a stylish 3-room apartment. With this apartment we offer the guests of Monte Rosa the opportunity to combine the tranquillity of the 'Campo' with the cultural activities of the city during their holiday. For more information about on staying in Lisbon: www.happystayinlisbon.com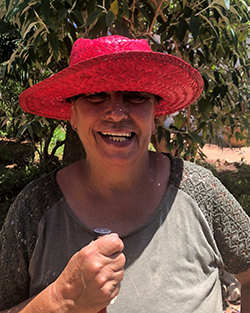 Noémia
(1959) is Portuguese, born in Angola. She has worked at Monte Rosa for over 20 years (with a few breaks) and is responsible for cleaning the rooms and making the beds with crisp sheets. She is also helpful in the kitchen and sometimes prepares typical Portuguese recipes such as 'Caldo Verde' or 'Frango na Pucara', a chicken dish with wine and Brandy. She loves the countryside and therefore likes to be at Monte Rosa. Now that Noémia is approaching her retirement she works only half days. During that time, she gets a lot done as the volunteers like to help her hang or fold laundry.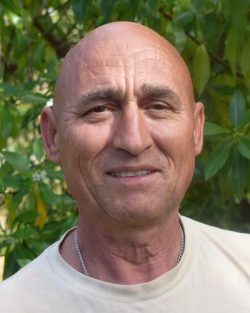 Ivan
(1965) was born in Moldova, but has lived in Portugal for almost 20 years and speaks the language well. As a gardener he takes great care of the land of Monte Rosa. With great attention to detail he takes care of the plants and trees and helps to keep the perma garden in order. But he is also a real 'handyman' and, where possible, also does the maintenance jobs on the property. In addition, he is, on request, the grill man at BBQ evenings. In short, Ivan is a 'multitasker' and a very helpful, calm and sympathetic colleague.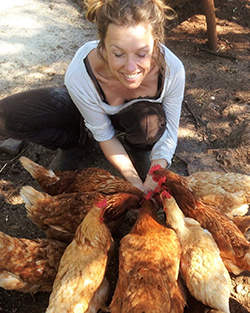 Volunteers
We regularly welcome volunteers at Monte Rosa who are preferably versatile and able to stay for at least one month. They, for example, help in our perma garden, irrigate the land, help prepare dinners, set the table, do the dishes, clean the pool. And sometimes volunteers perform easy maintanance jobs or help our cleaning staff. If you are interested in working with us on a voluntary basis, please send an email with your CV, a picture of you, the period you are available and a brief description of yourself as well as your motivation to: