Have you ever thought of organising a course, training or retreat abroad? Maybe you are looking for a sunny location for a company outing? Or maybe you would like to celebrate your wedding, a reunion or any other special occasion in Portugal? Monte Rosa offers a unique group accommodation with a beautiful activity room amidst the unspoilt nature of the Algarve.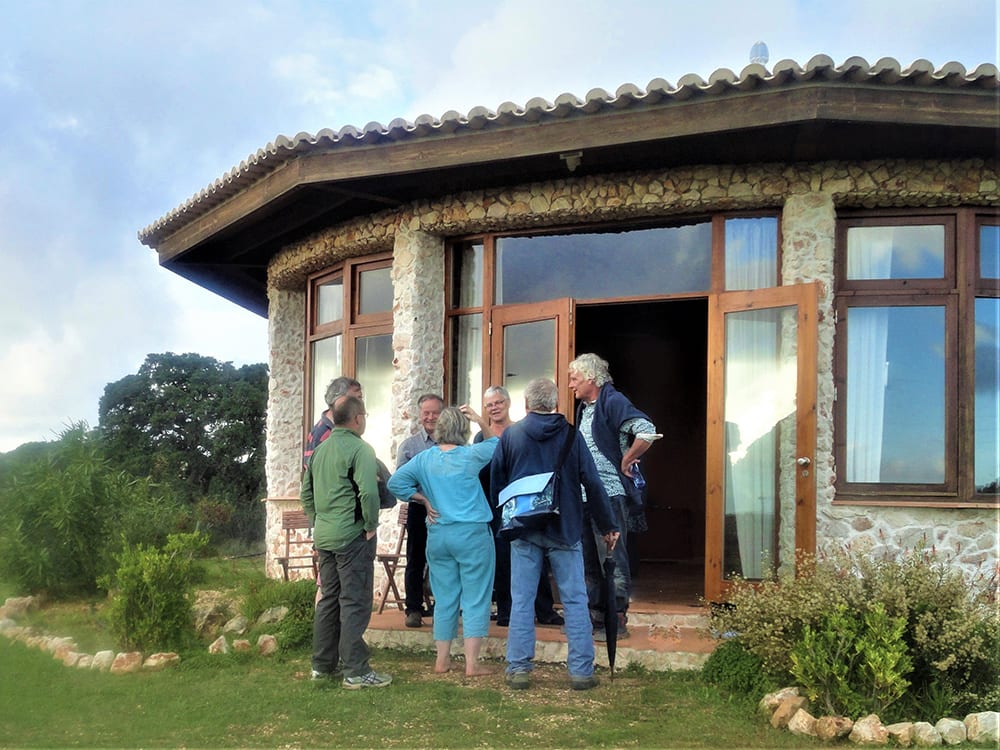 The Round House
At Monte Rosa we are proud to have an amazing activity room. Our Round House has large double glazed-windows, with beautiful views of the Portuguese countryside. In winter, it's nice and comfortable in the room thanks to the heating system in round wall. The Round House (80m2) can be rented to organize, for example, a workshop, training, meeting or any other type of activity. Most workshops focus on a healthy lifestyle, personal development and awareness.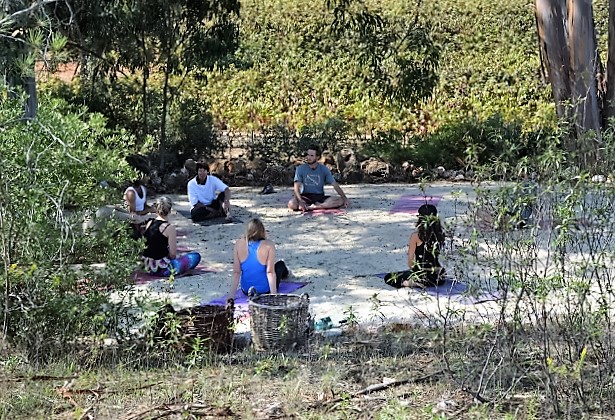 The Sand Circle
Apart from The Round House, Monte Rosa also offers guests the use of an outdoor activity area. The outdoor area is a sand circle (100m2), partly surrounded by giant eucalyptus trees that provide the necessary shade. Both The Round House and The Sand Circle area are located at the back of the land, very private, at 150 meters from the guest accommodation. The rural setting, surrounded by olive, fig and almond trees, is ideal for getting new insights.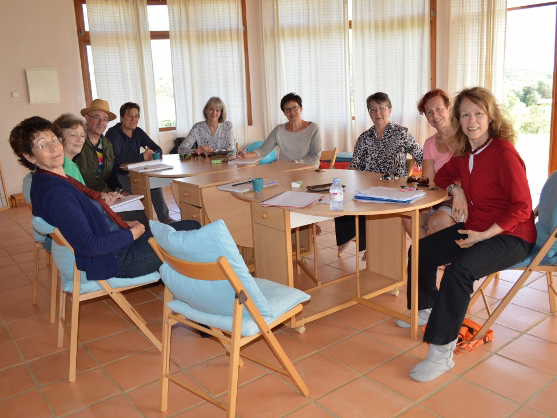 Group Accommodation up to 20 Persons
Are you planning to come to Portugal with a group? We would love to welcome you to Monte Rosa! During the mid and low season, it's possible to rent Monte Rosa exclusively for a group of up to 20 people on low season. For example to organise a retreat, training or company outing. In mid season, it's also possible to rent a kluster of (maximum) 6 rooms and houses for your group. If you wish, we can help you create a program and recommend you local activities and excursions. These include hikes, yoga classes, boat trips, massages, Fado nights and surfing lessons. Click here for detailed price information.
Rent of the Group Accommodation:
‣ Option 1: Renting Monte Rosa Exclusively
When you choose to rent Monte Rosa exclusively, you will have the availability of 10 rooms and houses with (single) beds for up to 20 people. This is based on staying in shared double rooms. This option is only possible during the low season* and we ask for a minimum rental period of 5 days. Your group has free use of the swimming pool, the communal dining area with a terrace, the outdoor kitchen with BBQ, the library and the gardens. Please note: House 9 is the owner's house and is not available for rent as part of the group accommodation.
‣ Option 2: Rent a Kluster of (maximum) 6 Rooms and Houses
All year round, groups of up to 15 participants can rent rooms 2, 4, 5, and 6, and houses 3 and 7.

Visit our accommodation page for an overview of all the rooms and houses of Monte Rosa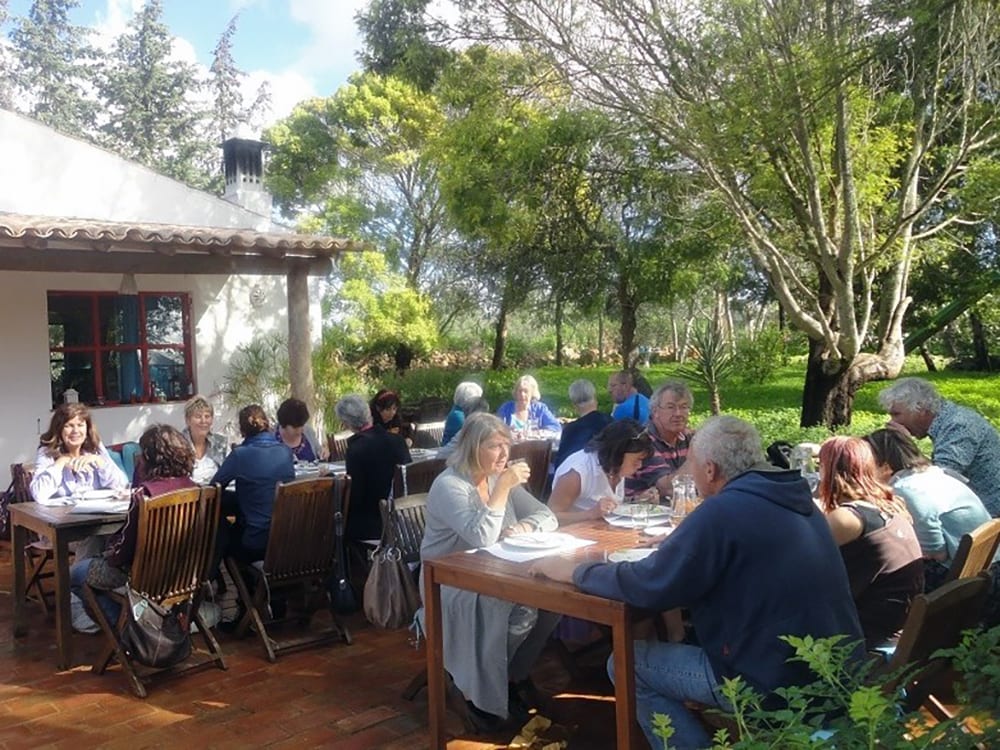 Catering
All meals can be provided by Monte Rosa. Of course, we will take into account specific (dietary) wishes. We offer a rich and healthy breakfast buffet with fresh fruit, muesli, Greek yogurt, warm bread and various types of cheese and marmalade. It is possible to make a lunch package, or you can opt for a lunch buffet with salads and soup. In the evening we prepare a 2- or 3-course dinner. We try to use fresh products from our garden as much as possible. We usually cook vegetarian or with fish, but if preferred, meat is also possible.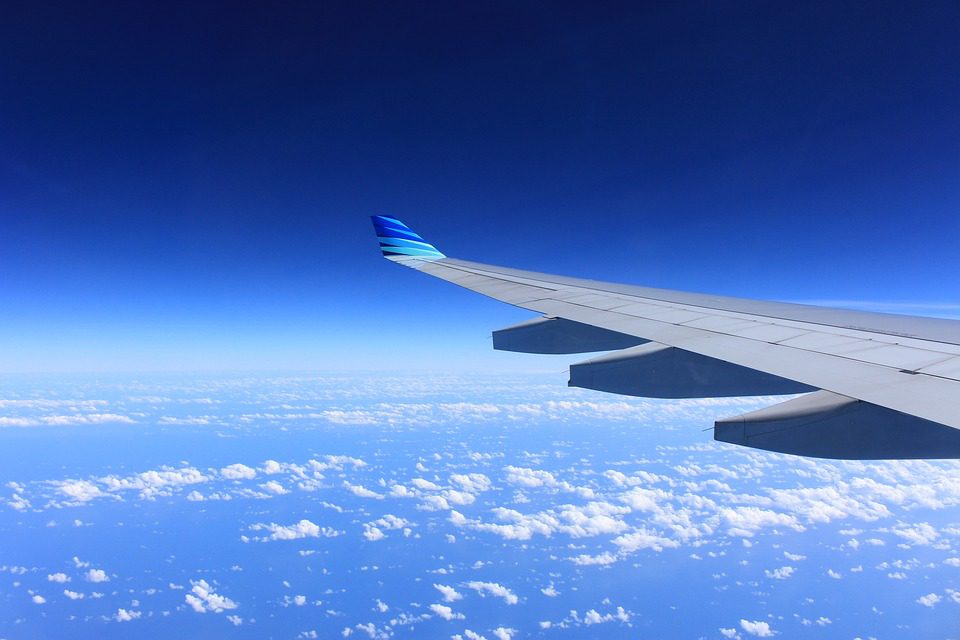 Transport
For groups, Monte Rosa can offer transportation to and from Faro Airport. For picking up guests from the airport, we charge €95 per ride (max 4 persons). The costs for dropping guests off at Faro Airport is €85 per ride. If you wish, we can rent a car, a station wagon or a van with nine seats for your group. The vehicle will be delivered at the airport. Additionally, it is possible to arrange group transportation with one of the local companies, for example Algarserra.
More information on How to Get to Monte Rosa can be found here
Interested? Request a Quotation!
Are you interested in learning more about the possibilities for your group at Monte Rosa? Please contact us. We'll be happy to offer you a quotation. Send a message to info@monterosaportugal.com and let us know the specific wishes for your group.
*
High season: 1 July – 30 September 2023, 27 April – 5 May 2024, 1 July – 30 september 2024
Mid season: 8 May – 30 June, 1 – 31 October, 23 December – 7 January 2024, 1 march – 26 April, 6 May-30 June 
Low season: 1 November – 22 December 2023, 8 January – 29 February 2024