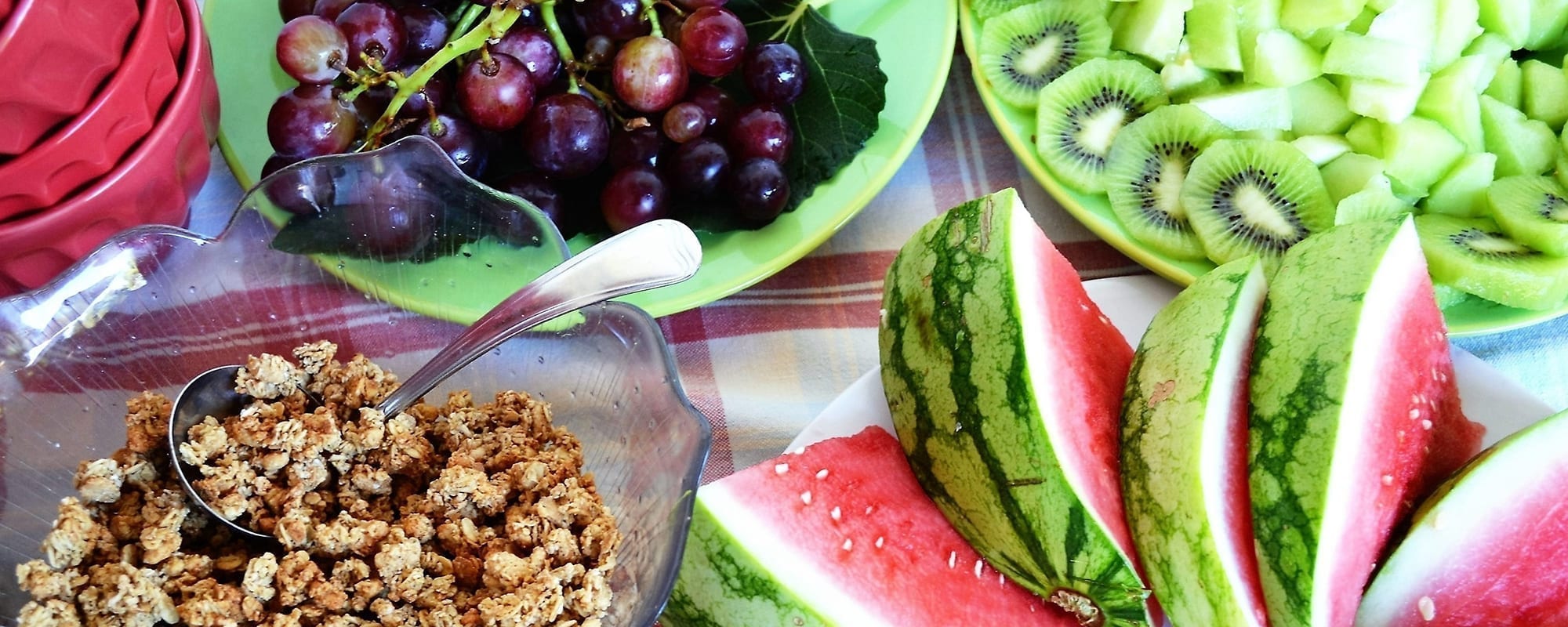 The reviews on this website are messages that our guests wrote in the paper guestbook of Monte Rosa.
20 August 2021
When I close my eyes and think of Monte Rosa, I see butterflies, dancing in the garden and smiles all around. A little paradise on earth. Thanks for our lovely stay, we can't wait to come back. Special thanks to Fabio & Maris and the whole MR-team.
19 August 2021
What an amazing place to stay! It couldn't be better for us, all our expectations have been fulfilled and beyond. we will keep very nice memories of our journey here, this will be useful to continue this trip in our minds for the rest of the year. We hope we will meet again.Take care of you guys. Merci beaucoup.
19 August 2021
We had a wonderful stay at Monte Rosa. It is the perfect place to stay in Algarve with its convenient location close to everything but at the same time away from the crowd. Every member of the team was very welcoming, contributing to the great atmosphere you can feel at MonteRosa. The room was clean and the kitchen is convenient with everything you need. Definitely recommend staying there!
19 August 2021
Dear Maris, Fabio, Theo, Samy natuurlijk en alle andere medewerkers van Monte Rosa. Thank you for a very nice and beautiful  holiday. The diners were very tasteful (better than before, if i may say) Maris, you are very good runner of everything. Till we meet again.
14 August 2021
Dear Maris and Fabio,  Thank you for this very nice holiday week in your lovely place. Each day began with the happy smile of Maris and your marvellous breakfast. You were always welcoming and helpful! Sadly we have to leave but we finished the holiday with your super BBQ!
13 August 2021
Dear ones, So beautiful place, we enjoyed so much. It was such a short stay but we tasted it  and felt so good. We meet again and again in this paradise.
6 August 2021
The week went by to quickly. All three of us had an unforgettable time. We loved the view from the house, the breafasts & dinners, the pool and the yoga, Mo the cat and last but not least the kindness of the people here!
29 July 2021
Dear Sandra, Maris, Samy and not to forget…Fabio & the rest,  Wow, what a great atmosphere, beautiful surroundings, garden and homes. Very lovely, peace and so green. The breakfast and diners…a big treat. We hope we come back for new energy!
16 July 2021
What a lovely place to stay. The food, the smile of Maris, the room, the view…magic!
10 July 2021
I stayed with my daughter only four days at Monte Rosa but it was a very good time. It is a well equipped location with many thoughtful details. We had everything we needed and the host and the personnel is very kind and helpful. It is also a great place for kids as there is a pool with toys and lots of space to play with the other kids. Breakfast was tasty and you can book dinner on site as well if you like. Thank you for the nice stay!
5 July 2021
Fantastic place to stay with kids. The owners & staff are very friendly and helpful

!
2 July 2021
A home away from home. we were super happy at monte rosa. we used the bbq sometimes and hung out by the (clean!) pool. they offer everything you need in refrigerators: water bottles, juices or cold beer. the outdoor kitchen is nice for smaller meals and beds were clean and comfy. thank you & hopefully see you again sometimes
25 June 2021
We have loved this place!! It's very beautiful, all in nature and lots of animals! We love animals so here I have been very happy. The food is really good and we are mega happy for our stay!! All the staff is very friendly and always helpfull and nice; thank you!
23 June 2021
Lovely place if you are looking for nature . Star gazing is also possible and the sunsets were stunning!
14 May 2021
What a beautiful and peaceful days I passed here in Monte Rosa. I just loved everything, persons, quit location, the birds singing, the yoga classes, the massage, everything was just wonderful. Thank you all, thank you Sandra. 
2 January 2021
"My stay at Monte Rosa was beautiful. The garden and the whole surrounding is amazing. It's quiet and they serve good breakfast, very friendly. I enjoyed it very much and I will definitely come back."
8 October 2020
Monte Rosa is a pearl and a little oasis in the crackling dry hills of Western Argarve. The room are simple and the bed super comfy – a dreamy garden all around and sparkling pool – it has been put together with much love and care and I was thrilled to be there. The staff are utterly wonderful , easy, kind, hospitable and thoughtful – they made me feel so welcome.
9 September 2020
Nice quiet place to spend a couple of days in order to discover the surroundings of Lagos. Great Breakfast.
30 August 2020
Monte Rosa es a really special and nice place; the pool and all the area are great, everything is cared but relaxed. Our room was delicious, all that we need in a well designed and decorated interior, and the open kitchen was cosy and practical. The staff is really kind and we really hope to come back soon. THANKS and best regards.
26 August 2020
The room was clean, cozy and confortable. Monte Rosa is a nice place a few minutes from Lagos. Jim is a great host, we took dinner and breakfast and we loved both. I recommend this place for every couple or family.
22 August 2020
Very nice and quite place for a long staying
10 August 2020
Being in nature and not so far fron the beaches. Jim does his best to make our stay as confortable as possible! Thank you!
10 August 2020
A great place to unwind. Rooms simple and clean with all the amenities you will want. Lovely pool area and great breakfasts. Jim the manager was super helpful. Will stay again when get the chance.
17 March 2020
My heart is full of flowers, the different colours of green, the heartwarming people. It's a special time with the 'corona' hight now and it was the best place to stay at theese special time. You alle were super special and for sure I will come back. Take care and lots of love!
5 January 2020
Thank you Monte Rosa for welcoming us intoyour arms. This place and the  people have found a special place in my heart. With the words 'we'll be back', enough has been said. See you soon and thank you for all.
5 January 2020
What a magical place this is. That also attracts wonderful beings. Totaly felt at home here, what a beautiful stay! The garden is a dream, the food lovely and also the fire place, nothing beats this realy so….of course we extended the stay! Thank you all for making this trip so memorable. Lots of love and all the best for 2020!
Lisbon,  December 2019
Arianne, Thank you for your attention! We had an excellent holiday in your apartment! Hope to visit Lisbon again!
Lisbon,  November 2019
Great place in great neighborhood. Arianne was really easy, fast and pleasant to communicate.
Lisbon,  November 2019
Dear Arianne, thanks to you to lend us your house. We had a great time in Lisbon! We are very grateful for this experience. Thanks!
Lisbon,  October 2019
Dear Arianne, Thanks for a lovely first stay in Lisbon! This is a gorgeous apartment!
Lisbon,  October 2019
Dear Arianne, Thanks a lot for a lovely stay in your apartment. We enjoyed it very much! The neighbourhood was also great for walking around, enjoying the atmosphere and having good food! Fritz liked the big bed very much 🙂 
Lisbon,  October 2019
Arianne's place is big, comfortable and beautiful in a quiet area in Lisbon, good also for family with kid or two, the communication with Arianne was perfect and she was flexibility with checking in. I would love to stay there again. Your recommendations for the pizza place was so good! 
3 October 2019
Thank you for 13 days, really lovely, enjoyed days at the cozy house nr 5!
Lisbon, September 2019
Lovely place! Great to walk to lots of nice places & things to see. Beautiful apartment and lovely host! Thank you!
Lisbon, September 2019
Sparkling clean, very spacious apartment/room at an amazing location… way quieter than Bairro Alto, yet minutes walk from that neighborhood. Walking distance to Time Out market, multiple other restaurants, cafes, bakeries, the river etc. Really great location! Arianne was a great host, punctual, very responsive and accommodating. I enjoyed meeting her and staying in her lovely home. I am sure you will too.
Lisbon, September 2019
Arianne is a great hostess and very hospitable. She has a very nice apartment located in a quiet area, but close to Barrio Alto, with everything you need to rest from a long day of strolling around the beautiful city of Lisbon. Definitely a city trip we will remember!
13 August 2019
Lovely place, amazing staff – I want to live here
Lisbon, August 2019
We had a wonderful stay at Arianne's beautiful apartment in Estrela. You can see the assembly from the living room window and it is a good distance away from the centre of Lisbon for some quietness. The beds were so comfortable and it is easy to fall in love with the decorative ceilings. The apartment is very close to Time Out Market and cafés. This is the best place I've stayed in Lisbon this far and it is super good quality for the price.
Lisbon, August 2019
Thank you very much for the pleasant stay. We had a really good time here. 
Lisbon, August 2019
Arianne, Thank you so much for your apartment. We loved the comfy stylish flatt. Perfect location to all destinations in Lisbon. We are sad it was a short trip but we will be back. 
Lisbon, August 2019
 Thank you Arianne. Your apartment has been wonderful to stay in and you have been so warm and welcoming. I will defiantly come back to stay at yours again, Lots of Love
Lisbon, August 2019
Dear Arianne, This is our first trip to Portugal and we chose well. Thank you for sharing your beautiful flat. Lisbon is a lovely city and the people are very welcoming. It was amazing!
Lisbon, July 2019
Dear Arianne, we had an amazing time in Lisboa. It was our first time here and we found out that it is a beautiful city. We loved staying here in your flat. Thank your hosting us, we had a really good time. Love and best wishes
Lisbon, July 2019
Dear Arianne, we had an amazing time in Lisboa. It was our first time here and we found out that it is a beautiful city. We loved staying here in your flat. Thank your hosting us, we had a really good time. Love and best wishes
27  July 2019
Thank you so much for a lovely stay in this special place. The food was yummy! Thankyou. I loved the home grown tomatos and strawberries. Such a great space for yoga too.
June, 2019
We found all things, like Arianne's discription. If you search a wonderful place to start your Lisboa-Adventure, here it is. With the Buslines 706 and 727 in front of the house, it's easy to start. The Tram 28 starts few minutes away. It was our first visit in Lisboa, but we'll come back.
May, 2019
A very nice apartment which is clean and comfortable and in a good location. Arianne is very helpful and accommodating! We had a great time in your city and were glad to have a comfortable + clean space to come back to. 
May, 2019
Arianne was an incredible hostess. I loved the house, everything we could expect for two people. Comfortable lounge and the bed more than better. I am sure that we will will return to the house that I liked so much!!
18 december 2018
Monte Rosa feels like 'coming home'.
Thank you Marieke, Vale and Melis for the familiair way of being together. I enjoyed the place, the village, the kind and nice people of the community… It's a way of living that touched my heart. Monte Rosa may be proud of you!! Thank you so much and see you again!
4 september 2018
Dear Sandra, Theo and Marieke,
We enyoyed your beautiful Monte Rosa!
We had a very peaceful and inspiring time here.
Thank you so much!
28 september 2018
We had a very pleasant stay! It's such a cosy and silent place and all of you are so friendly and warm. Breakfast was a perfect start of the day! We enjoyed the dinner with all af you. Thanks for everything and we are sure that we will come back next year!
15 augustus 2018
Dear Monte Rosa Team, thank you for a great holiday, we loved the house, the BBQ, the friendly faces, we will definitely recommend you to everyone!
25 juli 2018
A very good wildhouse, very lovely and sweet. A beautiful region. We take the time to explore the Algarve.
Bonjour de France.
6 juni 2018
Lovely, chill vibe here at the Monte Rosa.
Warmharted guests and volunteers. Lots of privacy. Thank you Sandra and Theo for your vision!
21 juni 2018
Thanks for the amazing time I had!
I found exactly what I was looking for: a quiet, peaceful place in nature with lovely people.
9 mei 2018
Thank's to everyone of the Monte Rosa team (including Boris and Floris and the chickens). I have had a wonderful time here with you in Sandra's paradise! Good luck with everything and hope we'll meet again.
September 2017
Dear Arianne, thank you very much for your kind hospitality. I found your apartment very convenient. I was visiting ISEG Business School for a conference and I believe that among all 150 participants I stayed the closest to the venue. I am only sorry that I could not stay longer. To other guests, I recommend to visit also places out of Lisbon, such as palace and gardens of Queluz, Cabo da Roca – a cape which forms the western most continental Europe, and Cascais and Estoril. Farewell and goodbye.
7 mei 2017
From a Soulcollage retreat of 5 faces of the Wild Woman this has been exactly the right place at the right time! I have fal like part of a loving and slightly dys-functional family from the start. My group of Soulcollage is now a tribe I will keep with me forever! Fiona, Gerry, Jacqueline and the gentle soft Sandra; love you all.
April 2017
It has been a pleasure to stay at your apartment and enjoy our first visit to Portugal.
Thank you for your hospitality and helping us with any inquiry and information about which places to visit.
Thank you very much Arianne
26 april 2017
I love this place. So peaceful. So many little corners to relax in. I love the hummocks in the trees and the round house for singing. Eating outdoors is a real treat and the food is delicious.
I would love to come back again.
26 april 2017
Thank you for such a relaxing and wonderful experience at Monte Rosa. It's magical here, I will miss the gorgeous nature and waking up to the sound of birds.I will return!
Oh! One more thing: Thank you to all of the staff who took such good care of everyone. I'm extremely grateful…en echt dankbaar. Hartelijk dank voor alles. Jullie zijn fantastisch.
April 2017
Arianne,
Thank you so much for the last minute stay! Such a luxury – the bath! Wonderful! Will come back.
26 april 2017
Again, a wonderful week of singing, food, fun an harmony. Thank you Sandra, Sandra, Chico and Fiona SO MUCH!
I shall be back again.