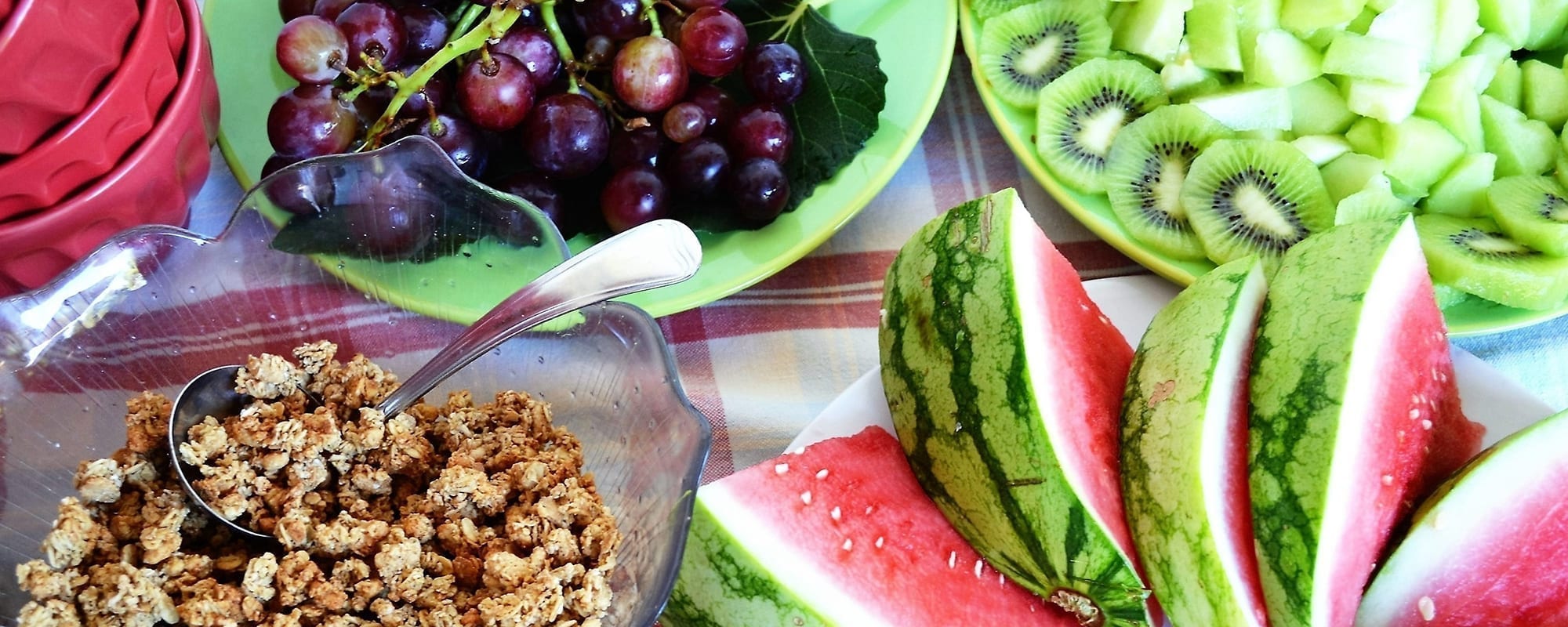 Lovely spot for remote working and writing Very nice spot, I had my own appartment with an outdoor area. I loved the gardens, the yoga studio, a wonderful massage, and the food was excellent. The chef was very nice and accommodated my dietary requirements.i didn't have a car but I worked from here for a week, WiFi is ok, and I enjoyed walking. One thing I would improve is a better induction when you arrive to explain where everything is.
Close to the beaches and the Zoo, in a quiet area Well located, in a calm rural area, very close to the Lagos Zoo. You can choose if you want to have breakfast (for an additional fee). During summer, they prepare dinner a few days a week. You'll need to book it upfront.
Beautiful place in nature with good vibes! We had a beautiful stay at Monte Rosa!the place is very special, within nature and so relaxing. The people that work and stay there are so kind. our 4 year old could help in the garden by planting seeds, our dog was so welcome, we really felt at home. You could be staying here really private and also easy to interact with other guests at the pool or at breakfast. We will def come back 🙂 the little house where we stayed in was basic and perfect for us. Especially the garden with your own space was so nice in summer.
Een kleine oase in de Algarve In juni zijn we met de camper op pad geweest en in de buurt van Lagos, Portugal, neergestreken bij Monta Rosa. Een kleine B&B met een eigen zwembadje maar waar ook een aantal camperplaatsen zijn. Wij hadden 3 dagen gereserveerd (via SVR) en zijn door het bijzonder vriendelijke personeel ontvangen. We waren op dat moment de enige campergasten en mochten zelf een plekje uitzoeken. Omdat onze camper met 7,20 m toch wel groot te noemen was, had ik bij het op- en afrijden wel wat extra aanwijzingen nodig maar verder probleemloos gestaan. Weer eens heel iets anders dan de gebruikelijke camping en camperplaatsen. Dankjewel voor jullie goede zorgen en vriendelijke ontvangst. Als we in de buurt zijn komen we zeker terug.
This is a unique place and needs to be experienced to appreciate it. I spent a week at Monte Rosa and it wasn't enough as this was one of the most relaxing holidays I've had in a long time. The staff and volunteers were really kind and friendly but not overly so. You could completely be yourself and engage with nature as well as other guests who were staying. I had a lot of laughs especially round the pool on a hot 🥵 day. I'm already looking forward to my next visit. Thank you ❤️ Anita
A gem in the Algarve Fabulous in every way! Calm and quiet, amazing food, lovely pool, lovely staff. Loved the outdoor kitchen and hammocks. A gem in the Algarve. My favourite beach by a mile is Praia do Zavial - unspoilt and beautiful. Intermarche in Budens has everything you need including cheap petrol!
Adventure10060956608
19/06/2023
Parel in de Algarve Dit is werkelijk waar een paradijsje op aarde. Zo'n fijne plek, vriendelijk en behulpzaam personeel, ruime en zeer schone verblijven, mooi tuin om doorheen te wandelen, heerlijk zout water zwembad en vers eten uit eigen moestuin! Een absolute must voor rustzoekers, wandelaars, fietsers en levensgenieters!
THE place to relax Surrounded by nature, Monte Rosa is a wonderful place to relax. It is situated close to Lagos Zoo and with easy access to main beaches. The staff is very friendly and you can even book breakfast and dinner (during high season), if you like. I've been travelling for over 40 countries so far, and I can surely recommend Monte Rosa for your peaceful stay.
Eva Restaurante e Bar
04/07/2020
Sítio perfeito para relaxar! Estávamos a buscar algum sítio para fugir do caos e stress dos dias actuais, e ouvir nada além dos pássaros e folhas ao vento. Pois demos muita sorte de encontrar o Monte Rosa. Escolhemos uma cabana com cozinha e casa de banho e ficamos dias a aproveitar a piscina, o silêncio, os jardins e o clima do Algarve. As praias paradisíacas de Lagos ficam a apenas 15 minutos de carro. Porém, em um dia alugamos bikes directamente na receção e fizemos um lindo passeio. O staff é adorável! Penso que poucas vezes fomos recebidos com tanta atenção e vontade de ver um sorriso. Definitivamente uma estadia a se repetir
Beautiful!! Spent 5 days at Monte Rosa this November and I really loved it! Such a calming place, beautiful and cosy houses (mine with a fireplace!) all in the middle of nature, many different trees around, hammocks everywhere to relax, Free to choose to join breakfast, which was such a healthy and tasty start of the day. All the staff I met was just incredible friendly & helpful. Great location as it is very near to Lagos, but still very into nature. Can't wait to come back in the summer months!
The reviews on this website are messages that our guests wrote in English in the paper guestbook of Monte Rosa. You can find the ones written in Dutch or German on the Dutch page and the ones written in French, Spanish or Portuguese on the Portugese page.
Amsterdam, November 26, 2023
Thanks for a super quiet week, with beautiful little trips in all directions.
Yolande
***
November 1, 2023
Thank you for this great time – wonderful place with great people!
Lia Aaron
***
October 17, 2023
Dear Monte Rosa, we would like to thank you for your welcome, your care and hospitality. We enjoyed the sun, the place, the rest, nature, food and everything! Come back another time. With love,
Sigrid and Brigitte
***
September 17, 2023

Dear Monte Rosa team, thank you for hospitality, we enjoyed our stay here. Wishing Monte Rosa all the best.
Lone and Marianne
***
September 15, 2023

We had a wonderful time and stay here at Monte Rosa. We are surrounded by charming people, great food and this wonderful calm atmosphere. We'll come back and hope to see all of you again.
Niels and Brigit
***
September 15, 2023

Thanks for everything!! We had a wonderful time at your lovely place. We will come back for sure! See you,
Ansgar
***
August 28, 2023

It was my first trip by myself in years all by myself. This was the best place to stay for me. I felt love and it made me so peaceful, exactly what I needed. I loved the friendly people, the nice food and above all the place! The wind, the smells, the sea… I'll come back
Daaja
***
August 26th, 2023

Dear Monte Rosa, it almost felt asif we didn't deserve having found a place like this! We had a time that will definitely be remembered as really peaceful and happy times! Muito Obrigado
Annonymous
***
August 25th, 2023

Thanks for the lovely vibes, great energy reset and energized. Great nature, rest magic massage by Ivana. Keep up the good vibes.
Inge
***
July 1st, 2023

Thank you to everyone, including Oliva. For kindness, acceptance, friendship, success plus most of all Love,
Anita
***
June 30th, 2023

To everyone at Monte Rosa, Thank you for your kindness plus hospitality. Hope you make my courgette lasagne! Lots of love,
Barnaby
***
June 22nd, 2023

Such a peaceful place! Thank you! And see you soon.
Anne
***
April 11th, 2023

We had a wonderful time in Monte Rosa. What a lovely place.
Susana
***
March 6th, 2023

Thank you Monte Rosa! I was here for 4 nights and had a really wonderful time. You have such a beautiful and special place here. I really appreciate the care and attention that goes into making my stay perfect.
Maya
***
March 4th, 2023

Thank you for this very nice stay. It was a perfect break from the winter in the north. It was a delight spending some relaxing time in the Round House. Breakfast in the garden, in the sunshine, listening to the birds sing every morning was a definate highlight, as was spending time doing yoga in the beautiful Round House, enjoying the delicious dinners and chatting with the staff. Everyone was friendly and had lots of knowledge about the area, walks, restaurants and places to visit. Overall a great stay!
Michaela & Martin
***
November 8th, 2022 
Thank you very much for the hospitality and quiet place. Using the facilities of outside kitchen was very helpful. Beautiful surroundings! Greetings,
Gardien
***
November 8th, 2022 
Thank you for the warm hispitality able to provide such a cozy living space! Providing tips for hikes was really useful. Keep up the good work. See you again. All the best,
Bernadeth
***
October 27th, 2022 
Thank you so much for such a lovely couple of days. such a peaceful lovely place. Hospitality was brilliant. We were looked after so well and the food was delightful. especially vini's potato salad!!! Thank you grandma!! thank you all of you.
Ari, Marcus and Mary
***
October 16th, 2022
Dear Doreth, Ingeborg, Vini and Laura, thanks for this great time at Monte Rosa, with the personal touch and attention an great food (thanks Vini!) and your great recommendations. All the best!
Paul, Sarah, Jane and Daniel
***
October 6th, 2022
Dear all of you, we had a wonderful time here. Thank you so much for all you sharing good ideas and big smiles! Monte Rosa is a place we will tell or friends about. It is such a beautiful place. We hope to be back again one day. Big hug from
Per & Merete
***
October 5th, 2022
Dear Ingeborg & Doreth, thank you ever so much for making Monte Rosa an even more beautiful place. Three days felt like weeks. We'll certainly be back and may bring some friends along. Thanks again, take care!
Tini & Robin
***
September 25th,  2022
Thank you so much for this beautiful and peaceful place! You made us feel very welcome, and we enjoyed our stay very much. We really like the relaxed atmosphere and hope we'll be back!
Theresa & Sebastian
***
September 22nd, 2022
Thank you making a special few days for us. We will hold this place in our hearts forever.
Chris & Lauren
***
September 19th, 2022
Dear all, thank you so much for the wonderful time here. Big hug
Marion
***
September 17th, 2022
Thank you for the awesome time at your little Paradise.
Marie & Joseph
***
8 September 2022
Dear Monte Rosa, thank you for the wonderful stay! This was the perfect relaxing place to wrap up our honeymoon.  Best wishes from Canada.
Lauren & Mat
***
6 September 2022
It was a very pleasant stay at Monte Rosa. Silence, swimming, hiking and a very good rest at night! Thank you for all the good and friendly taking care of  our stay and taking care of us. The best to all of you!
Linda & Frido
***
6 September 2022
Dear Monte Rosa crew, thank you for making our stay extra special! We had the best time. Thank you Vinicius for that amazing dinner! I can only recommend other guests to try!! Also thanks for all the hiking & dinner tips. We really can recommend the sunsets @ Sítio do Forno! Wow!
Maren & Marc
***
4 September 2022
Thank you! We enjoyed the lovely place! Silence, Nature and Love! Thank you for your work!
Michaela & Selina
***
3 September 2022
Dear Monte Rosa, thanks for taking such good care of us with the fantastic meals and lovely yoga classes! We couldn't have wished for a better start of our vacation. A big hug from Mia for your all!
Joanne, Victor & Mia
***
18 July 2022
Hello beautiful Monte Rosa! Thank you for your lovely place that made such a great holiday for us! Everything was so awesome: the nature around, our little house, the breakfast, the pool, … Hope to see you soon again!
Laura & Phil
***
31 June 2022
Thank you for a beautifulstay! Everyone was so friendly and welcoming, making us feel very at home and the food was excellent!
Billy & Sarah
***
19 June 2022
We had such an amazing time at Monte Rosa! The staff was really lovely. They even prepared some extra melon for our baby boy every morning. The diner was delicious and we could calm down and be in contact with many nice and interesting people. Dank für alles!
Benjamin, Isabel & Samu
***
18 June 2022
Thank you very much, Doreth and your team! We had a wonderful time here at Monte Rosa. Also thank you for that very tasty dinner (I did have three plates!). All the best for you, guys and take care!
Sebastian & Lucas
***
14 June 2022
Travelling through this beautiful part of the country… The stay here made me relax, eat well and enjoy your company. The courses (yoga) and massages are a must! And don't miss out on the evening meals offered! A real treasure to have found this place. Thanks to each for taking care of me and the others.
Anonymous
***
13 June 2022
We had such a good time here! The breakfast and the dinner were really delicious. We relaxed at the pool and the children had a lot to explore. Everybody was really nice and gave us good tips for trips. Thank you!
Sabine, Luther, Jakob & Justus
***
11 June 2022
We are so happy to find this magical place of yours. An ideal spot to slow down, re-charge and emjoy. You have something beautiful here, please keep I that wat, so we can visit you again – hope to! All the best and wishes to the whole team.
Anka & Bogan (Slovenia)
***
9 June 2022
It has been such a lovely time here. Wished we had stayed longer. Highly recommend the 2hr boat trip (with kids).
Katie, Primrose & Fredrick
***
1 June 2022
Thanks for having me. I am in love with the energy of your place and can't wait to come back.
Florian
***
21 April 2022
Thank you for keeping this beautiful land so cared for. The colors, the scents, the flavors it has provided, has made our stay even richer and more memorable. From the trees, the houses to the beautiful birds. The playgrounds and climbing challenges for the kids have been most welcoming. I'm sure our stay here will live in our children's memories (especially the pool!) for a very long time.
Warmly, Alia, Jahia, Jaya, Rawi & Neri
***
18 April 2022
It was just the most magic and beautiful place we could have found! And the sounds of birds we will miss. Plus the flowers. Thank you Ingeborg, thank you Sandra.
Ingrid & Daniel
***
6 March 2022
I totally enjoyed Monte Rosa. The friendliness of everyone, the nature, the good food, driving and electric mountain bike (very nice!), doing a hike on the coast-path between Luz and Burgau was even better! Thanks a lot to all of you!
Maitri
***
26 February 2022
We had a wonderful and quiet time staying at your lovely little paradise. Thank you so much!
Claudia & family
***
23 February 2022
Thank you so much for the lovely stay at your beautiful place. We had such a wonderful and relaxing time.
Daniel, Angela with love & Matti and Igor, the dog
***
2 February 2022
Dear Sandra, thanks for the beautiful stay! Thank you for the nice place you build up. Take care, all the best.
Gosia & Johannes
***
20 November 2021
Really nice and cozy apartment surrounded by a beautiful garden. Communication was easy, welcoming, and helpful. Would recommend staying there.
Leonie
***
20 August 2021
When I close my eyes and think of Monte Rosa, I see butterflies, dancing in the garden and smiles all around. A little paradise on earth. Thanks for our lovely stay, we can't wait to come back. Special thanks to Fabio & Maris and the whole MR-team.
Leonora & Hannes
***
19 August 2021
What an amazing place to stay! It couldn't be better for us, all our expectations have been fulfilled and beyond. we will keep very nice memories of our journey here, this will be useful to continue this trip in our minds for the rest of the year. We hope we will meet again. Take care of you guys. Merci beaucoup. All the best,
Alexandre
***
19 August 2021
We had a wonderful stay at Monte Rosa. It is the perfect place to stay in Algarve with its convenient location close to everything but at the same time away from the crowd. Every member of the team was very welcoming, contributing to the great atmosphere you can feel at Monte Rosa. The room was clean and the kitchen is convenient with everything you need. Definitely recommend staying there!
Cedric
***
19 August 2021
Dear Maris, Fabio, Theo, Samy natuurlijk en alle andere medewerkers van Monte Rosa. Thank you for a very nice and beautiful holiday. The diners were very tasteful (better than before, if I may say) Maris, you are a very good runner of everything. Till we meet again. With love,
Ronald & Marga Komen
***
14 August 2021
Dear Maris and Fabio,  Thank you for this very nice holiday week in your lovely place. Each day began with the happy smile of Maris and your marvellous breakfast. You were always welcoming and helpful! Sadly we have to leave but we finished the holiday with your super BBQ! Big kisses,
Guillaume & Hélaise
***
13 August 2021
Dear ones, Such a beautiful place, we enjoyed it so much. It was such a short stay but we tasted it and felt so good. We meet again and again in this paradise.
Antar Khirad, Meijke Jetten & Amber Aruna
***
6 August 2021
The week went by too quickly. All three of us had an unforgettable time. We loved the view from the house, the breakfasts & dinners, the pool and the yoga, Mo the cat, and last but not least the kindness of the people here! Thank you very much.
Liesbeth, Nina & Dean

***
29 July 2021
Dear Sandra, Maris, Samy and not to forget… Fabio & the rest. Wow, what a great atmosphere, beautiful surroundings, garden, and homes. Very lovely, peaceful and so green. The breakfast and diners: a big treat. We hope to come back for new energy!
Kisses, Dennis & Mirjam
***
16 July 2021
What a lovely place to stay. The food, the smiles of Maris, the room, the view… Magic!
Anemieke & Marit from Amsterdam
***
10 July 2021
I stayed with my daughter for only four days at Monte Rosa but it was a very good time. It is a well-equipped location with many thoughtful details. We had everything we needed and the host and the personnel is very kind and helpful. It is also a great place for kids as there is a pool with toys and lots of space to play with the other kids. Breakfast was tasty and you can book dinner on site as well if you like. Thank you for the nice stay!
Aleksandra
***
5 July 2021
Fantastic place to stay with kids. The owners & staff are very friendly and helpful!
Fabio
***
2 July 2021
A home away from home. we were super happy at monte rosa. we used the bbq sometimes and hung out by the (clean!) pool. They offer everything you need in refrigerators: water bottles, juices, or cold beer. The outdoor kitchen is nice for smaller meals and the beds were clean and comfy. Thank you & hopefully see you again sometimes
Mareike
***
25 June 2021
We have loved this place!! It's very beautiful, all in nature and lots of animals! We love animals so here I have been very happy. The food is really good and we are mega happy with our stay!! All the staff is very friendly and always helpful and nice; thank you!
Bea, Christina & Namiel
***
23 June 2021
Lovely place if you are looking for nature. Star gazing is also possible and the sunsets were stunning!
Hasina
***
14 May 2021
What beautiful and peaceful days I passed here in Monte Rosa. I just loved everything, the people, quiet location, the birds singing, the yoga classes, the massage, everything was just wonderful. Thank you all, thank you Sandra.
Sandra
***
2 January 2021
My stay at Monte Rosa was beautiful. The garden and the whole surrounding are amazing. It's quiet and they serve a good breakfast, very friendly. I enjoyed it very much and I will definitely come back.
Annette
***
8 October 2020
Monte Rosa is a pearl and a little oasis in the crackling dry hills of Western Algarve. The room is simple and the bed super comfy – a dreamy garden all around and a sparkling pool – it has been put together with much love and care and I was thrilled to be there. The staff are utterly wonderful, easy, kind, hospitable, and thoughtful – they made me feel so welcome.
Clair
***
9 September 2020
Nice quiet place to spend a couple of days in order to discover the surroundings of Lagos. Great Breakfast.
Gerd
***
30 August 2020
Monte Rosa is a really special and nice place; the pool and all the area are great, and everything is cared for but relaxed. Our room was delicious, all that we need in a well-designed and decorated interior, and the open kitchen was cozy and practical. The staff is really kind and we really hope to come back soon. THANKS and best regards.
Elena
***
26 August 2020
The room was clean, cozy, and comfortable. Monte Rosa is a nice place a few minutes from Lagos. Jim is a great host, we took dinner and breakfast and we loved both. I recommend this place to every couple or family.
Vincent
***
22 August 2020
Very nice and quiet place for a long staying.
Jerome
***
10 August 2020
Being in nature and not so far from the beaches. Jim does his best to make our stay as comfortable as possible! Thank you!
Amale
***
10 August 2020
A great place to unwind. Rooms are simple and clean with all the amenities you will want. Lovely pool area and great breakfasts. Jim the manager was super helpful. Will stay again when getting the chance.
Will
***
17 March 2020
My heart is full of flowers, the different colors of green, the heartwarming people. It's a special time with the 'corona' high now and it was the best place to stay at this special time. You all were super special and for sure I will come back. Take care and lots of love!
Eva Bade
***
5 January 2020
Thank you Monte Rosa for welcoming us into your arms. This place and the people have found a special place in my heart. With the words "we'll be back", enough has been said. See you soon and thank you for all. Love,
Max
***
5 January 2020
What a magical place this is. That also attracts wonderful beings. Totally felt at home here, what a beautiful stay! The garden is a dream, the food lovely and also the fireplace, nothing beats this really so… of course, we extended the stay! Thank you all for making this trip so memorable. Lots of love and all the best for 2020!
Blanca
***
Lisbon, December 2019
Arianne, Thank you for your attention! We had an excellent holiday in your apartment! Hope to visit Lisbon again!
Kim Family
***
Lisbon, November 2019
Great place in a great neighborhood. Arianne was really easy, fast, and pleasant to communicate with.
Sergey
***
Lisbon, November 2019
Dear Arianne, thanks to you to lend us your house. We had a great time in Lisbon! We are very grateful for this experience. Thanks!
Pepe, Maider, Kike & Pablo
***
Lisbon, October 2019
Dear Arianne, Thanks for a lovely first stay in Lisbon! This is a gorgeous apartment!
Jake, Sarah & Izzie
***
Lisbon, October 2019
Dear Arianne, Thanks a lot for a lovely stay in your apartment. We enjoyed it very much! The neighborhood was also great for walking around, enjoying the atmosphere, and having good food! Fritz liked the big bed very much.
Martina, Tobi & Fritz
Lisbon, October 2019
Arianne's place is big, comfortable, and beautiful in a quiet area in Lisbon, good also for families with kids, the communication with Arianne was perfect and she was flexible with checking in. I would love to stay there again. Your recommendations for the pizza place were so good!
Reut
***
3 October 2019
Thank you for 13 days, really lovely, enjoyed days at the cozy house nr 5!
Beate (Hamburg)
***
Lisbon, September 2019
Lovely place! Great to walk to lots of nice places & things to see. Beautiful apartment and lovely host! Thank you!
Janice
***
Lisbon, September 2019
Sparkling clean, very spacious apartment/room at an amazing location… way quieter than Bairro Alto, yet minutes walk from that neighbourhood. Walking distance to Time Out market, multiple other restaurants, cafes, bakeries, the river, etc. Really great location! Arianne was a great host, punctual, very responsive, and accommodating. I enjoyed meeting her and staying in her lovely home. I am sure you will too.
Katerina
***
Lisbon, September 2019
Arianne is a great hostess and very hospitable. She has a very nice apartment located in a quiet area, but close to Barrio Alto, with everything you need to rest from a long day of strolling around the beautiful city of Lisbon. Definitely a city trip we will remember!
Jill
***
13 August 2019
Lovely place, amazing staff – I want to live here.
Zoé, Sam, Alex & Brooke
***
Lisbon, August 2019
We had a wonderful stay at Arianne's beautiful apartment in Estrela. You can see the assembly from the living room window and it is a good distance away from the center of Lisbon for some quietness. The beds were so comfortable and it is easy to fall in love with the decorative ceilings. The apartment is very close to Time Out Market and cafés. This is the best place I've stayed in Lisbon this far and it is super good quality for the price.
Megan
***
Lisbon, August 2019
Thank you very much for the pleasant stay. We had a really good time here.
Aileen, Anni & Charu
***
Lisbon, August 2019
Arianne, Thank you so much for your apartment. We loved the comfy stylish flat. Perfect location for all destinations in Lisbon. We are sad it was a short trip but we will be back.
Elisa, Stephane & Oliver
***
Lisbon, August 2019
Thank you Arianne. Your apartment has been wonderful to stay in and you have been so warm and welcoming. I will defiantly come back to stay at yours again. Lots of Love,
Megan
***
Lisbon, August 2019
Dear Arianne, This is our first trip to Portugal and we chose it well. Thank you for sharing your beautiful flat. Lisbon is a lovely city and the people are very welcoming. It was amazing!
The Books Family
***
Lisbon, July 2019
Dear Arianne, we had an amazing time in Lisboa. It was our first time here and we found out that it is a beautiful city. We loved staying here in your flat. Thank you for hosting us, we had a really good time. Love and best wishes
Maite, Juliana, Maria & Jose
***
27 July 2019
Thank you so much for a lovely stay in this special place. The food was yummy! Thank you. I loved the homegrown tomatoes and strawberries. Such a great space for yoga too. Namaste,
Jo, Nick, Flo, Violet & Clennie Studett-Kenedy Ashurst
***
Lisbon, June 2019
We found all things, like Arianne's description. If you search for a wonderful place to start your Lisboa Adventure, here it is. With Buslines 706 and 727 in front of the house, it's easy to start. Tram 28 starts a few minutes away. It was our first visit to Lisboa, but we'll come back.
Reinhard
***
Lisbon, May 2019
A very nice apartment that is clean and comfortable and in a good location. Arianne is very helpful and accommodating! We had a great time in your city and were glad to have a comfortable and clean space to come back to.
Cirian
***
Lisbon, May 2019
Arianne was an incredible hostess. I loved the house, everything we could expect for two people. Comfortable lounge and the bed are more than better. I am sure that we will return to the house that I liked so much!!
Andrea
***
18 December 2018
Monte Rosa feels like 'coming home. Thank you Marieke, Vale, and Melis for the familiar way of being together. I enjoyed the place, the village, the kind and nice people of the community… It's a way of living that touched my heart. Monte Rosa may be proud of you!! Thank you so much and see you again! With love,
Thecla
***
4 September 2018
Dear Sandra, Theo, and Marieke. We enjoyed your beautiful Monte Rosa. We had a very peaceful and inspiring time here. Thank you so much! Very best wishes,
Chi, Frank, Ader & Sophia
***
28 September 2018
We had a very pleasant stay! It's such a cozy and silent place and all of you are so friendly and warm. Breakfast was a perfect start to the day! We enjoyed the dinner with all of you. Thanks for everything and we are sure that we will come back next year! With love,
Beate & Petra
***
15 August 2018
Dear Monte Rosa Team, thank you for a great holiday, we loved the house, the BBQ, and the friendly faces, and we will definitely recommend you to everyone!
Niki, Tijn & Lisa
***
25 July 2018
A very good guesthouse, very lovely and sweet. A beautiful region. We took the time to explore the Algarve. Bonjour de France.
Famille Perolett
***
6 June 2018
Lovely, chill vibe here at the Monte Rosa. Warmhearted guests and volunteers. Lots of privacy. Thank you Sandra and Theo for your vision!
Laurel & Howard
***
21 June 2018
Thanks for the amazing time I had! I found exactly what I was looking for: a quiet, peaceful place in nature with lovely people.
Stephanie
***
9 May 2018
Thank's to every one of the Monte Rosa team (including Boris and Floris and the chickens). I have had a wonderful time here with you in Sandra's paradise! Good luck with everything and hope we'll meet again.
Simone de Koning
***
Lisbon, September 2017
Dear Arianne, thank you very much for your kind hospitality. I found your apartment very convenient. I was visiting ISEG Business School for a conference and I believe that among all 150 participants I stayed the closest to the venue. I am only sorry that I could not stay longer. To other guests, I recommend visiting also places outside of Lisbon, such as the palace and gardens of Queluz, Cabo da Roca – a cape that forms the westernmost continental Europe, and Cascais and Estoril. Farewell and goodbye.
Jan
***
7 May 2017
From a Soulcollage retreat of 5 faces of the Wild Woman, this has been exactly the right place at the right time! I have felt like part of a loving and slightly dysfunctional family from the start. My group of Soulcollage is now a tribe I will keep with me forever! Fiona, Gerry, Jacqueline, and the gentle soft Sandra; love you all.
Pennsylvania, USA
***
Lisbon, April 2017
It has been a pleasure to stay at your apartment and enjoy our first visit to Portugal. Thank you for your hospitality and for helping us with any inquiries and information about which places to visit.
Alicia
***
26 April 2017
I love this place. So peaceful. So many little corners to relax in. I love the hummocks in the trees and the Round House for singing. Eating outdoors is a real treat and the food is delicious. I would love to come back again.
Margret
***
26 April 2017
Thank you for such a relaxing and wonderful experience at Monte Rosa. It's magical here, I will miss the gorgeous nature and waking up to the sound of birds. I will return! Oh! One more thing: Thank you to all of the staff who took such good care of everyone. I'm extremely grateful…
Ellie, Utrecht
***
Lisbon, April 2017
Arianne, thank you so much for the last-minute stay! Such a luxury – the bath! Wonderful! Will come back.
Lisa
***
26 April 2017
Again, a wonderful week of singing, food, fun and harmony. Thank you Sandra, Sandra, Chico, and Fiona SO MUCH! I shall be back again.
Teresa