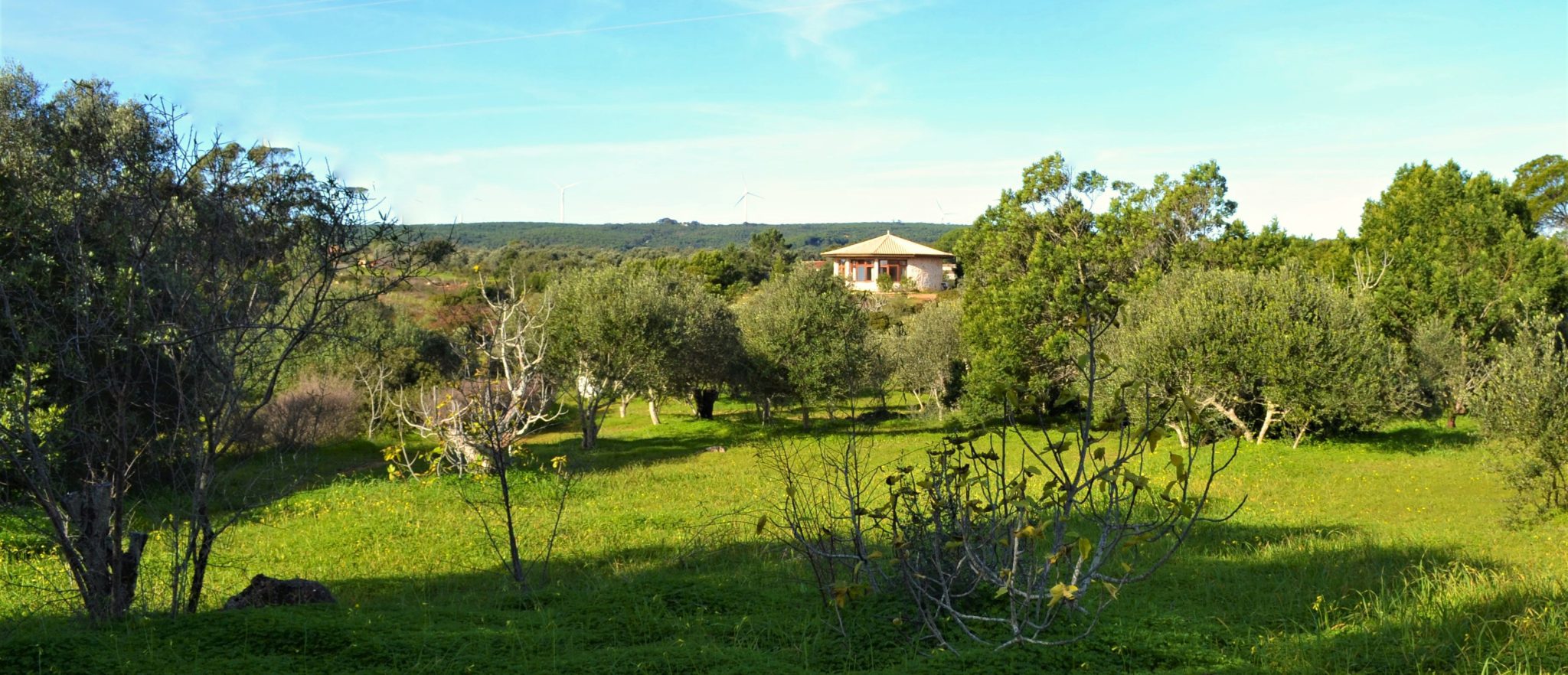 COHOUSING WITH RESPECT AND PRIVACY
For future community living ('cohousing'), Monte Rosa is in search of likeminded, responsible people. Some of our keywords are: healthy life style, tranquility, sustainability, inner listening, authenticity, connection, privacy, cosy atmosphere, spiritual awareness, respect and love for nature and for one another
Welcome for a 5-month community living ('co housing') experience in the Algarve from November 16th, 2023  to April 16th, 2024
A cohousing project is a housing project for and by permanent residents. We share the mission to build a sustainable world and as 'neighbors' to create an atmosphere where everyone can thrive. There is social engagement and spaces and belongings are shared, allowing your own home to be more compact.
Some facilities will be for common use. We are thinking of sharing the round house, the swimming pool, the land with fruit trees and organic vegetable gardens, the chicken coop, the laundrey room with washing and drying machine, the tool shed with drill and lawnmower and the BBQ. Basic amenities such as electricity, water, wifi, firewood will also be shared and costs are paid jointly. For these 5 months, those costs are included in the price.
Sharing also means that maintenance needs to be done together.
We are looking for some inspiring like-minded people with a good sense of responsibility to enter into a trial period together for a form of co living while maintaining privacy. The intention is to start the final "journey" on November 1, 2024.
Core values that give an impression of the objective: healthy lifestyle, creating peace, attention to sustainability, 'inner listening', authenticity, connection, privacy, sociability, spiritual awareness and 'work is love in action'.
If you feel attracted to our vision and share the common ground, we invite you to express your interest in participating in this 5-month experiment with cohousing.
We see possibilities to make Monte Rosa your home through investment options or through half-yearly rental agreements.
During this exclusive trial period we want to get to know each other and discover if there is a 'click' as a basis for continuing this project.
Although we love children we give priority during this project to people without children. This in order to offer a quiet environment to people who consciously choose for silence and rest, with the possibility to do yoga and meditation, to reflect and stay in tune with themselves in this increasingly crazy world. We are thinking of writers, artists, hikers, cyclists, surfers and others who want to surround themselves with nature and with kind people.
 

Rental options from November 16, 2023 to April 16, including the use of the listed facilities, prices per month:

Would you also like to experience the peace and serenity of the Algarve countryside at our charming Monte Rosa? Then come and enjoy a fully equipped room or cottage with cooking facilities and with the use of all the mentioned common facilities.

If you would like to join this experimental 5-month project at Monte Rosa, please send us a letter with your motivation and photo until 1 September: info@monterosaportugal.com

We look forward to building something unique together!

Note: guests can still make 'normal' reservations until 16 November 2023. From 16 November to 16 April 2024, some rooms (1, 5, 8a and 9a) will remain available for rent at normal winter rates, however, they can only be booked without children. Between mid-April and 1 November 2024, you can book our accommodations in the usual way again and children are welcome!